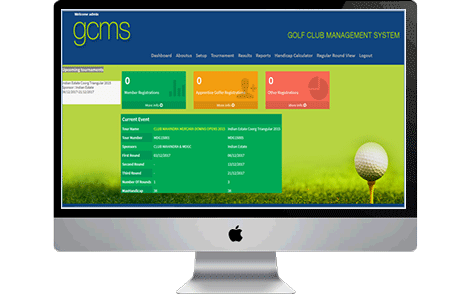 Modern day Golf clubs offer their customers a wide-ranging variety of facilities and benefits. GCMS helps in managing the tournaments and generated system calculated scores without any manual intervention.
All the required business rules for calculating the scores at different levels is built in the application. Thus the results are more accurate and quick. It has also helps to keep the log of Apprentice golfers and Handicap of each members and Apprentice golfers. It also helps in managing the Regular rounds and takes a print of Regular rounds draw a ant point.
IRCA's GCMS software solution allows the management of green area usage by players and allows the club to define its own rules/regulations on who is allowed to use the facility and what charges are to be levied on the user. It also provides a score carding system that allows the tracking of scores for the golfers in order to determine their handicap. Tournaments organized can also be tracked for scores and other statistics that can then be optionally published on websites, emails or SMS. Thus all the historical records of tournaments organized with score cards is available in one single application and can be viewed at any given point of time. It also provides piggy back features and also flexibility to allot the tournament automatically or manually.