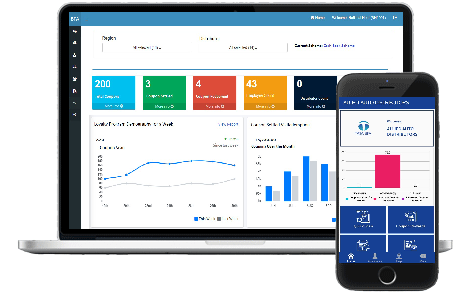 Get your Company Organized with IRCA'S SFA – Sales Flow Automation software which helps to track and control your sales activities. Grab the best sales CRM software to grow your business.
Why IRCA's SFA – Sales management software?
Every business need daily business tracking or sales tracking, inventory management, tracking of sales persons, sales analysis, lead tracking, CRM, etc. Our sales flow automation tool gives you all the features at just one click.
Easy Data Entry, Data Selection and paper less entry
Sales team to efficiently access and manage the information relating to their customer and product
Real time retrieval and updating of information provides correct information at the right time as and when required
Increased productivity
Reduction of duplicity and errors
Real time location tracking of sales person
Reduce sales cost
Discovery fake orders
Payment collection information on real time bases
IRCA'S SFA Sales tracking software improve supply chain management and deliver an end to end, procure to pay process which includes:
Indent order management, customer contact management, order tracking, dealer management / reseller management, route plan management, tracking of each sales person, inventory planning, sales analysis, target management, lead tracking, and integrated with accounting ERP software such as, SAP, Tally, and more.
Features of SFA – sales tracking application
Recommendation on Distribution
Daily Recommendation on Replenishment
Dynamic Buffer Management
Mobile App to Track Sales Team
App Feature to Place Indent
Place Indent / Tracking
Daily Call Reports on App
Admin Interface on Mobile App
Road Configuration for Sales Team
Reports on DCR / Dealer Visits Tracking
Setting up Geographical Aspects
Product listing and segmentation based on category
Configuring One Unit to Another
Configuring Product to a Particular Unit
Maintain Customers List
Maintain Vendor List
Process the Indent
Order Dispatch Tracking
Reports / Analytics of Sales activities and other